NOW PLAYING
Guess Who's a Mess (preview)

0:00
Email Signup
Get the latest Brad Sucks updates:

Blog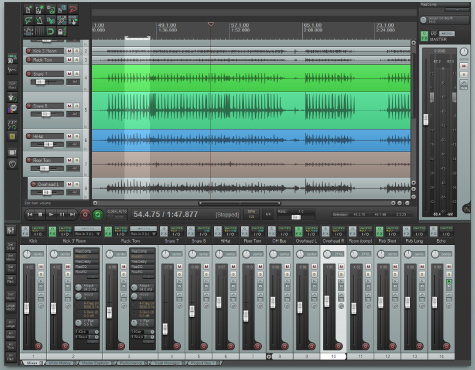 There wasn't a lot of exciting software at the NAMM music trade show this year and it made me wonder: why are recording software manufacturers being so slow to add Internet collaboration features?
Anyone will tell you that we're in an Internet indie music golden age but popular recording tools barely recognize the Internet exists for anything more than patch updates. Cloud services have come to the most mainstream services (email, calendar, music, photos, contacts) but recording software has barely made a move in that direction.
There are so many ways the Internet could improve software like Pro Tools, Reaper, Reason, Logic and Ableton Live — easy collaboration, cloud backups, portability (easily access your audio data on your iPad & iPhone), revision tracking, quick in-software purchasing of samples/plugins/devices, preset sharing and hands-on lessons to name a few off the top of my head.
And it makes business sense for the companies. By making the Internet an integrated part of the recording software companies could get their customers into a subscription model instead of this weird yearly upgrade cycle and they'd be free to roll out & market new features any time, distribution and copy protection would be easier, companies could gather metrics on performance to improve the software & stamp out bugs, you could demo and sell features, samples, presets, plugins and lessons to your customers, sell iPad/iPhone/Android apps to work with your cloud data, etc, etc.
I feel Ableton Live and Reason are uniquely positioned for success in this area. They're largely MIDI, sample and loop based so they'd use less bandwidth to sync. Plus their interfaces are already very modular — selling new devices and features and packs wouldn't require much redesign.
My suspicion right now is that Ableton (who haven't released a major new version of Live since January 2009) is working on a full rewrite and I'll be surprised if it doesn't include a lot more Internet. But whoever it is, someone's going to make a move and then all the other players will have to play catch up.
One of the issues with finishing this record (that I have figured out in retrospect) has been that my understanding of rhythm and "tightness" changed when I was nearly done. Tracks were in the bag and then I suddenly started noticing some songs didn't "groove" or "bang" the way I perhaps wanted them to.
Before this I've mostly thought about my contributions in music as chords & riffs, melody and words. The groove was just something that happened — or sometimes mysteriously didn't happen and I'd have no idea why.
But what to do? I can't re-record the album every time I learn something new or get better at something. I know that doesn't end well for me (or anyone who wants to hear my record in the next ten years).
So I took some time and I've gone back and re-addressed things, trying to avoid re-recording everything or changing them too much (people already like a lot of these demos! some have already been licensed!). Here's an example of one I'm working on right now:
Excerpt of the original "Feel Free Plastic Surgery!" instrumental
It's been confusing to diagnose and treat this without starting over. In this one I ditched the South American drum loop that I wrote the song on top of and replaced it with a more straight ahead rock pattern I tapped in. Then re-recorded the bass to fit better.
I'm still working on it (I'm concerned the snare on the 4 is late sometimes), but the new one is more fun to me, dancier and rockier. It's such a small change and I feel dumb that it's taken me forever to understand and figure out. But… maybe it's a good thing? I don't know, we'll see.